Of course! Depending on the platform you're playing from (Lazyland, Facebook, iOS, Android, Zoo, etc.), the necessary information will be provided to you in order to invite a friend and pay with him your favorite game.
Simply click on the button :
and then on the icon "Play with a friend".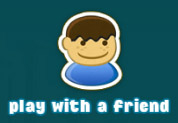 You will see a window where you get a link. Click "Copy" and send the link in whatever way you want to your friend (e.g. if your friend is online on Facebook chat or Skype you can send it there). When your friend clicks the link, he will enter the game and you can start playing together. Simple as that!